.NET Software Developer or Architect
Our experienced Microsoft team is looking for new .NET Software Developers and Architects to join us. Our offices are located in Helsinki, Tampere, Lahti, Turku, and Oulu, but Solitans are working from over 70 different locations in Finland - so remote work is everyday life for us.
Apply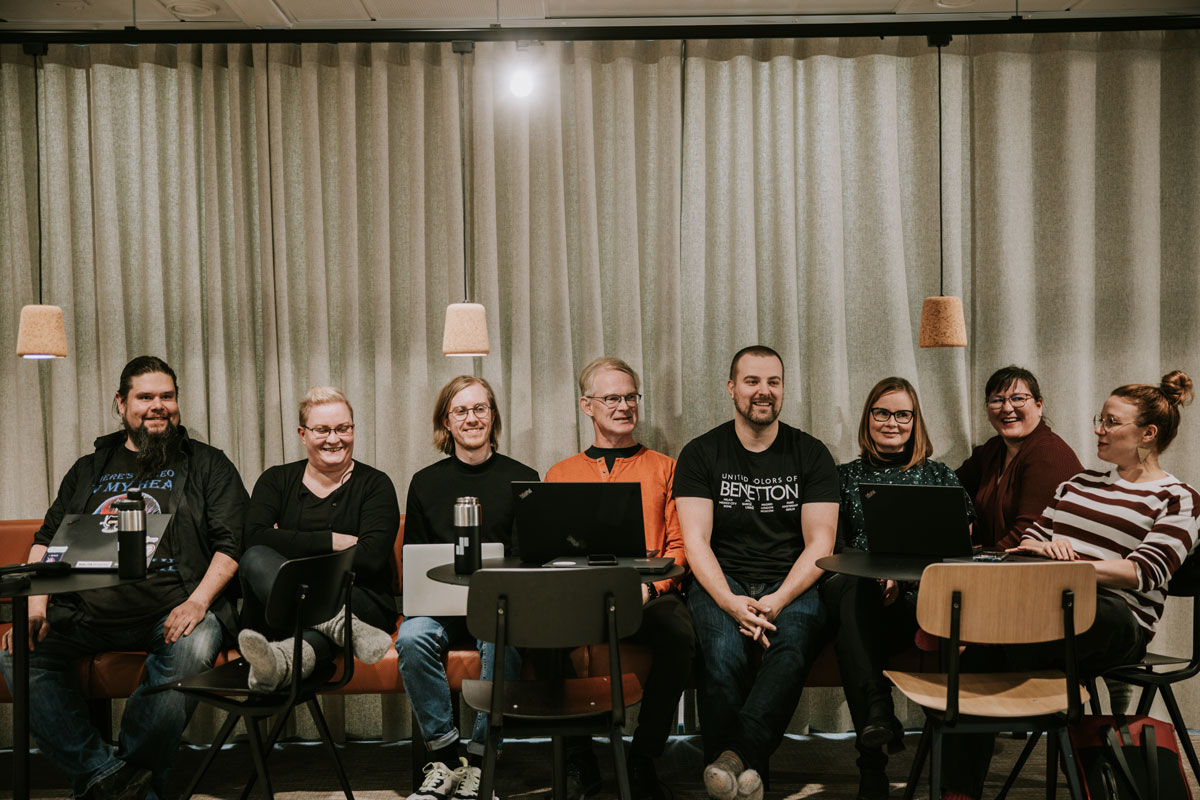 Solita is known as a strong competence company and we can guarantee that you will learn more when you join us – that's our promise to you. You will always find someone who can teach you something new. Continuous learning is in our DNA and together we find the best way for you to learn. For example, we have in-house learning paths, info sessions, code coffees, mentor programs, and continuous possibilities to learn from each other in customer work. By cherishing continuous learning we make sure that we have interesting projects for the future, and also possibilities for project rotations. After all, all we have is our people.
Solita's projects are a combination of dev, data, cloud, and service design. For example, you might be sitting next to a Data Architect, UX Designer or a person who's speciality is in cyber security. We don't have customers from any specific business area, as we concentrate on having varied projects that are meaningful. This can mean that we have an impact on how we handle a global pandemic, we get to use the newest technologies or we make life significantly easier for the end-user. More about our customers here.
We have an easy-going and competent .NET-team
Our .NET-team has plenty of experience, good sense of humor, and a caring attitude. In addition to .NET development, cloud services are a big part of everyday life, not only for the Azure side of things but also for GCP. We make sure that nobody gets left behind and you will always find someone to help you. Competence development is an important thing for us and we continuously share our knowledge with each other and use the time to develop our skills in different training sessions.
Our team can usually choose which technologies we use in the projects. That's a good chance to try something new time after time. Even though we are using Microsoft platforms and technologies, we are not restricted only to Microsoft's offering. We can also use the best technologies from other tech ecosystems.
You can read more about technologies we use from our Developer Survey.
Comments from our .NET developers and architects
"We have a skilled team and diverse projects. Some projects are tailored for customers and some of them are based on a specific technology like Episerver. We can usually start our projects from scratch, which allows us to try new technologies when there is no legacy code slowing us down. If you are interested in full-stack development, you can do that too."
"One of the latest projects is being implemented in the Google Cloud, of which I myself had no previous experience. All my previous experience was with Azure. The new cloud platform has not slowed us down practically at all, because we had just the right kind of expertise in-house to tackle early-stage problems. Another thing that I find best at Solita in my own role is that we can offer the customer dev, design, cloud and data services under one roof. When your own background is more on the dev side, it is rewarding to work in projects with for example data professionals and at the same time learn new things from them."
What we're wishing for
You are a .NET professional and C# is a native language for you. You might also have some interest in F# (we don't expect you to have previous experience).

You also have some experience in frontend technologies like Javascript, Vue/React.

You are fluent or interested in using cloud technologies in your projects. For example, Azure, AWS, or GCP might be familiar to you.

You feel our values caring, easy-going, passionate, and courageous as your own

Knowledge of Finnish language is currently required
What we can offer
Challenging, impactful projects to work with – not only with dev professionals but also data, cloud, and design

On our customer cases we work as a Solita team, so you won't be left alone

Our culture is self-made – trust, responsibility, and maximum freedom are at the center of it. We have many subcultures in our dev community so it's easy to find your own place

You can concentrate on what matters. We have People Leads who take care of you

Community of almost 400 Software Professionals

Wide onboarding program that helps you to find your own place in Solita

Great benefits – such as choosing your own devices (you can freely choose PC laptop with Windows/Linux or Apple laptop, and the phone you like), massages to relax during your workdays, In-house coach to support your mental well-being, many hobby clubs, gyms (Hki and Tre), sports / culture and lunch benefit, extensive occupational healthcare and many more!
Want to talk more?
Leave your details below and tell us about yourself

If you want to learn more about our .NET projects or team, feel free to contact Max 040 188 3959 / [email protected] or Sami 044 339 8688 / [email protected]
If you are interested to hear more about our community or culture, have a quick chat with Mirka 040 725 8194 /

[email protected]
#LI-remote